Time to Service Purchase
Market Shift Requires New Tactics to Capture Business, Close Deals
January 2022
COVID VARIANTS, INFLATION AND LABOR CONCERNS, AS WELL AS SUPPLY-CHAIN WOES, will persist to pester the economy in 2022. On the flip side, the real estate market will continue to ignore the distractions. While total origination volume is forecasted to drop from $3.9 trillion in 2021 to $2.6 trillion this year, the bigger shift will be the transition from a refi to a purchase market.
The Mortgage Bankers Association (MBA) forecasts a record year for purchase volume in 2022, driven by millennials reaching peak first-time homebuyer age and a strong job market. Purchases present different challenges and opportunities for title and settlement agents, reinforcing the need to maintain strong relationships with real estate agents, builders and others in the housing market.
As the business mix shifts, Cindy McGovern, CEO of Orange Leaf Consulting, believes title professionals should refocus on their core values and culture, and rebuild internal teams that are probably burned out by ensuring they have the infrastructure to support them. It will be imperative for companies to prospect and build relationships with customers "who we have not seen in person in a long time," she added. "We have been busier than most of us have seen before, but that created some habits that will not serve us as the market shifts toward more purchase deals," McGovern said. "Make sure each and every person understands their role, that every job is a sales job, and it is your entire staff's responsibility for the customer experience."
To help with this, each employee should know your company's top clients, growth customers and key prospects. The entire staff also should know what to say when and if they are communicating with a customer.
"The booming market allowed some sales teams to sit back a bit, but now is the time to lean into new business development more than ever," McGovern said. "It's time to push the sales team to get out and prospect. Get clear on how you are different than the competition and tell everyone."
Government Policy
In the coming year, experts will closely watch how the Federal Reserve approaches its monetary policy to combat rising price pressures without tipping the economy into recession. In addition, the government has already acted by passing legislation that supports equitable communities. On Nov. 15, President Biden signed into law the $1.2 trillion Infrastructure Investment and Jobs Act. The bipartisan law will make historic investments in roads, bridges, water, sewer, rail, airports, broadband, etc. It includes $110 billion for roads and $66 billion for passenger and freight rail. There is also $65 billion each to upgrade the electricity grid and ensure broadband is available for the entire country (which will aid growth of digital closings).
"This type of spending benefits local communities as it helps them address maintenance backlogs," said Diane Tomb, ALTA's chief executive officer. "It is also good for the economy. Most economic studies suggest property values tend to increase between $2 to $4.75 for every $1 of adjacent infrastructure investment. As an industry whose revenue is tied to land value, there is an upside to having government policy that produces sustainable appreciation."
This is why ALTA joined most of the business and real estate community, including the U.S. Chamber of Commerce, the National Association of Homebuilders, the Real Estate Roundtable and the National Association of Realtors, in supporting the overall bill.
Still pending in Congress is Biden's Build Back Better plan, which offers several programs that have the potential to increase housing access. The bill provides $10 billion in down payment assistance for first-generation homebuyers, $24 billion for housing choice voucher rental assistance, and $15 billion for the Housing Trust Fund to build and preserve over 150,000 affordable homes for low-income households.
Inflation Nation?
Doug Duncan, Fannie Mae's chief economist, said the principal macroeconomic concern for 2022 remains accelerating inflation—and how the market and policymakers respond to it. According to Fannie Mae's National Housing Survey, 70%of consumers believe the economy is on the wrong track. This is the highest percentage since 2011, when consumer sentiment was weighed down by the aftermath of the Great Recession."While the economy picked up steam late in the year, unfortunately, so did inflation, and the market expects the Fed to recalibrate its monetary policy as a result," Duncan said. "The Fed recently acknowledged that inflation is unlikely to be transitory, and it will now attempt to engineer a soft landing, one in which inflation moderates to acceptable levels and economic growth decelerates but doesn't contract. Whether the Fed is able to thread this historically difficult policy needle is shaping up to be one of the most consequential economic storylines of 2022."
Impact on Housing
Odeta Kushi, deputy chief economist at First American Financial, said the outlook for the 2022 housing market is familiar—strong millennial demand for homes constrained by an ongoing, historic housing supply shortage. This supply-demand imbalance generated the record house price appreciation seen in 2021.
"Given this dynamic shows few signs of changing, we expect house price appreciation to remain high in 2022," Kushi said. "While rising mortgage rates in 2022 may reduce affordability and prompt house prices to moderate, that's only likely to take house price growth from record-breaking levels to strong and steady. Entering 2022, a still red-hot sellers' market means homeowners remain poised to reap significant equity gains, but will they tap that equity to move up to a bigger or better home, or will rising rates prove to be too much of a financial disincentive? At the entry level, first-time home buyers can expect to see affordability erode further as mortgage rates rise, but will that add urgency to first-time buyers to make their move sooner, rather than later?"
Homeowners in the second quarter of 2021 had a historically high average of $280,000. With house price appreciation expected to remain strong into 2022, this equity accumulation shows no signs of abating, according to Kushi.
"Just over 65% of households in the United States are homeowners, so most households will likely benefit in 2022," she said.
While an existing homeowner may have more purchasing power because the equity in their home has surged with price appreciation, the price of the home upgrade they are interested in has also increased. Kushi said the fear of not finding something to buy in a housing market with historically low inventory is one reason the average length of time homeowners live in their home has reached a high of 10.7 years.
Another factor that may keep existing homeowners on the sideline is the high likelihood of rising mortgage rates in 2022. While existing homeowners are sitting on record levels of equity, many of these owners have also secured historically low fixed-mortgage rates. There is a financial "lock-in" effect that increases as mortgage rates rise and the size of the mortgage increases. The good news is that the pandemic has brought with it a new normal: work from home. This may allow existing homeowners who are sitting on record levels of equity to move somewhere cheaper, where their equity can get them a lot more home, even in a rising mortgage rate environment.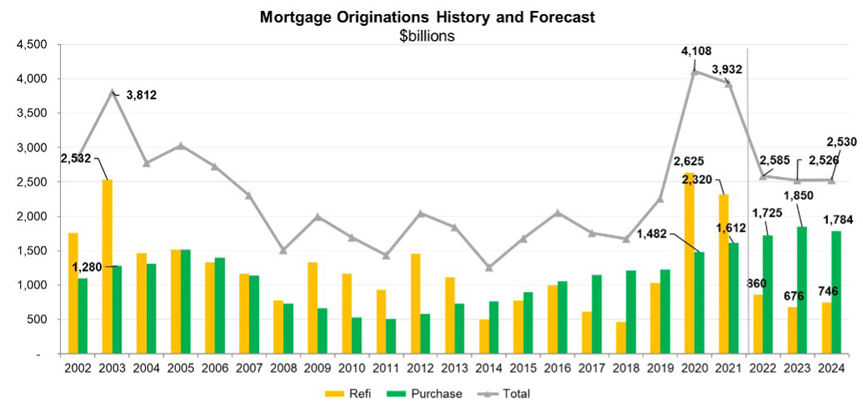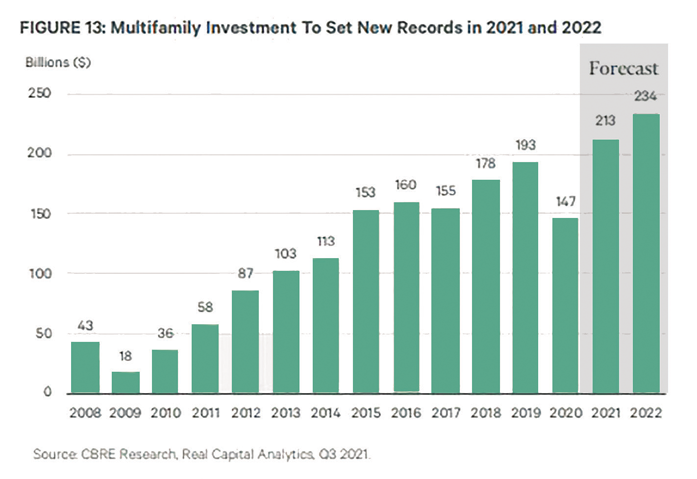 Millennial buyers, many of whom are first-time purchasers, made up the largest share of home buyers in 2021. However, this generation continues to lag generational predecessors at the same age when it comes to homeownership, primarily because they've chosen to delay key lifestyle decisions that are highly correlated with homeownership in order to further their educations. As they continue to age into their home-buying years in 2022, millennials will face a market with rapid house price appreciation, limited inventory, particularly in the lower price segment, and higher mortgage rates. Worse yet, first-time homebuyers don't have the equity from the sale of an existing home to bring to the closing table.
"While the fundamentals support continued first-time homebuyer demand in 2022, these buyers will face an uphill battle if housing supply remains near historic lows," Kushi said. "You can't buy what's not for sale."
According to a report from First American, cities such as Buffalo, Pittsburgh or Oklahoma City, offer first-time buyers the most opportunities for homeownership because the median renter's house-buying power in these cities allows for a greater selection of homes to buy.
"You can't buy what's not for sale in your own market, but you can relocate," Kushi said.
Commercial Cooking
With markets moving past the pain of the pandemic caused in 2020, commercial and multifamily mortgage lending is expected to increase to $597 billion this year, according to the MBA. Jamie Woodwell, MBA's vice president for commercial real estate research, said significant differences remain by property type, but incomes have rebounded strongly and investor interest in real estate and real estate finance is robust.
Commercial real estate services and investment firm CBRE echoed the MBA's sentiment. Richard Barkham, CBRE's global chief economist, said the omicron variant will impact timing of a large-scale return to the office, but fiscal and monetary policy remain supportive of economic growth. He sees a record year in commercial real estate investment.
CBRE predicted some 300,000 multifamily units will be delivered in 2022. This compared to an average of 206,000 completed units annually since 2010. Amid the recovery, factors such as environmental, social and governance (ESG) initiatives, demographics, hybrid work and digitization will take on new importance.
"Multifamily will continue its recovery in 2022, with downtown locations returning to pre-pandemic occupancy levels," Barkham said. "Single-family rentals in the suburbs will also fare well as some millennials leave the city to raise families."
Digital Migration
Due to the record real estate and mortgage activity, the title insurance industry added more than 16,000 jobs in 2021. The industry now employs nearly 145,000 people across the country. The processes and workflows employees are familiar with, however, may change as title companies continue to implement artificial intelligence and automation. Order counts will decline as refis continue to contract, but a competitive purchase market requires skilled employees. Jimmy Lewis, CEO and co-founder of TrueFocus Automation, said pressure on a typical title company's margins coupled with a decline in skilled labor could force major changes in how business in conducted.
"To that end, 2022 could be the year that title agents selectively embrace technology for their simplest operational tasks so that they can utilize the skilled employees they have in places like marketing or service," Lewis said. "But I don't believe agents will be spending just to spend on technology. Instead, they'll seek cost-effective, competitively priced single or limited function technologies that are easily customizable and capable of managing a few key pain points in the workflow."
Hoyt Mann, president and co-founder of alanna.ai, is seeing even traditional title agencies recognizing the need to eliminate manual processes in their operations.
"At a time when skilled staffing is getting harder to come by, they're using new tools to get their skilled employees away from simple, redundant tasks that can be handled by technology, and redirecting them to places where their skills can have a bigger impact on service levels or growth," Mann said.
While the past year proved to be a turning point for remote online notarizations (RON), the pendulum swing back to the purchase market could curtail continued growth of digital closings. Aaron Davis, CEO of Florida Agency Network and AMD Enterprises, said the move away from refinances will add resistance to the adoption rate, mostly because of practical obstacles to collaboration on the frontlines. This primarily comes down to the politics of which party's title company conducts the e-closing, according to Davis.
"The good news is that there are a lot of indications the real estate and title sectors do want to see this become mainstream," he added. "The majority of lenders are already clamoring for more digital closings as well, so I do think we'll see positive and significant growth in e-closing/RON adoption in 2022 in spite of market headwinds."
Jamie Kump, Qualia's director of high-growth accounts, believes momentum of digital closings spurred by the pandemic will continue. This will be driven by consumer expectations and choice when it comes to their closing, as well as an easier and more transparent process to buy and sell their homes. Just like other online transactions, consumers want the entire home purchase experience, from home search through the closing, to be seamless from end to end, Kump added.
"We are finding that businesses across the real estate industry are focusing their investments right now on technology that can enable that end-to-end homebuying experience, so they can meet consumer expectations for a simple transaction," she said. "Having a flexible technology framework that powers efficiency and scalability enables companies to deliver choice to consumers, and allows them to adjust more quickly as conditions change."
Learn more at Title News – January 2022 – Time to Service Purchase